Barclays US
BarclayCard US wanted to digitize the current banking processes, allowing uninterrupted, constant access to mobile deposits, account statements and balances, profile information and account plans, mobile transfers, and much more.
The Challenge
Senior managers, and our Sr. iOS Developer, took responsibility in the oversight of all development stages of the new mobile application. This mobile application digitizes all the current banking tools available to customers banking with BarclayCard US. The development team faced many challenges with UI Testing and consistent functionality of the new UI, consistent documentation of the development processes, and payment security.
The Solution
The development team, along with our Senior iOS Developer, produced mobile applications of iPhone, iPad, and Apple Watch platforms. Payment security was solved with back-end database security, and implementation of Apple products like Family Sharing and Apple Wallet as a convenience feature for consumers that already use Apple Wallet for retail consumption. Thorough UI Testing took place in order to solve bugs and negotiate details and benefits of UI functionality, but a responsive user interface was produced in the end.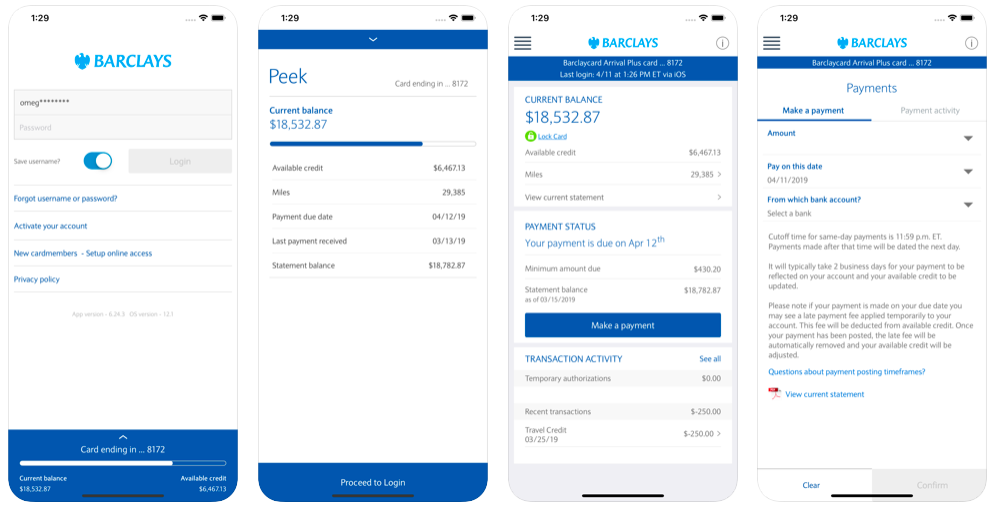 The Benefits
BarclayCard US now has a modern platform for its consumers to interact with, granting easy access to important banking tools and pertinent account information. Customers banking with BarclayCard US can use the "Peek" feature for a quick-view of key account information, including statement balance, before logging in, access your complimentary FICO credit score any time, redemption for cardmembers with cash-back or credit rewards, track recent and past transactions, and use the Purchase Planner to estimate your monthly payments.